Classic cars: Sixties glamour and excitement comes to Marthon
Launched 60 years ago in 1961, the Jaguar E-type is one of the world's most magnificent cars . In August we were treated to a special visit.
01 Sep 2021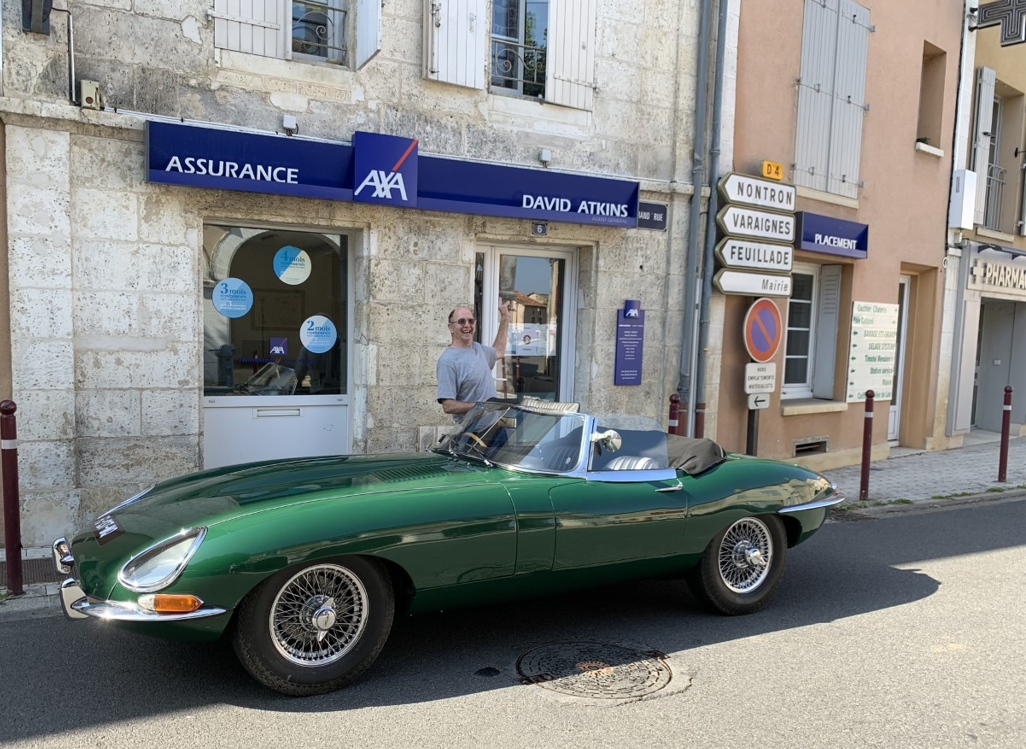 The legendary racing driver Enzo Ferrari described the Jaguar E-type as "most beautiful car ever made." We would not disagree.
Recently we were lucky enough to see at close hand this wonderful classic car, courtesy of long-standing AXA Marthon client George Potter.
George, who lives on the Charente/Dordogne borders, visited our office last month and arrived in style, driving his E-type 4.2 in its trademark racing green bodywork.
The car has a fascinating story to tell: including an appearance on a popular tv programme… more about that later!
George's love of Jaguars started at school. The headmaster owned an XK120, and inspired by this, later George bought his very first jag; a Mk2.
Over the next few years the family acquired a number of Jaguars, before one day he had the chance to buy the E-type. This was almost 50 years ago, and even though George initially bought it with a view to keeping it for only a short while, the car remains today an important item in the Potter household.
Of course, the Jaguar E-type is not an everyday car…. so it is generally used on 'high days and holidays'.
George has entered the car into many classic car competitions over the years, collecting his fair share of silverware in both the UK and France.
In 1988 George and his beloved Jaguar achieved their very own piece of tv stardom.
Dinky Toys were planning a re-launch of the Dinky brand name – and chose this iconic sports car to be their flagship. The Blue Peter children's programme decided to feature the car with presenter Caron Keating, inviting George along to the studio for the relaunch of the scale model.
At the end of the show, Dinky gave George the first model that they had made – and he still has it in its original box. The car also received a Blue Peter badge!
Over the past 54 years the car has covered just over 62,000 miles.
Thank you George for kindly bringing this truly wonderful vehicle to our office and for sharing the story with us.
If you have a car that you would like to feature in our 'Car of the Month' please get in touch. We would love to share photos of your favourite classic and sports cars.
AXA Marthon offers insurance for classic cars, so please contact us if you require further information.
Phone: +33 (0)5 45 70 43 76
Email: agence.atkins@axa.fr
Website: www.insurancefrance.fr