Enjoying life in France on firm foundations
Running a groundworks business and storage company enables Ross & Lynn Jackson to build a successful life in the Charente
02 Sep 2022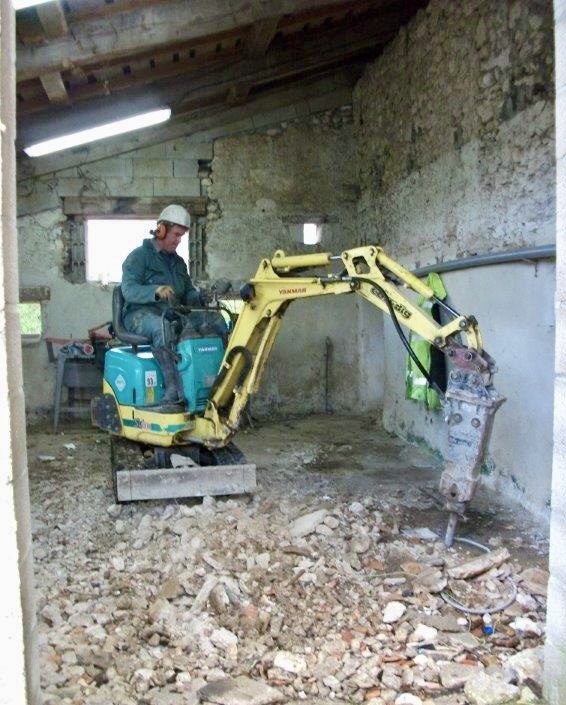 In 2008 Ross & Lynn Jackson moved their young family aged 8 & 10 from rural Devon to start a new life in the Charente, buying a property nearby to Aubeterre-sur-Dronne. In England, Ross had trained at agricultural college and for over 25 years built riding arenas across the country. His experience in farming also gave him a solid understanding of managing drainage, therefore setting up a groundworks business – Jackson Terrassement – made perfect sense.
Settling into French life
Fourteen years later, Ross & Lynn have integrated well into French life. When they first arrived, they knew very little French; however, the couple soon found common ground for communication with neighbours, including the local farmer. A short while after settling into the area, the farmer invited them to the opening of his new milking parlour along with the local mayor… celebrated with a drink of the local wine – and biscuits!
The choice of the Charente as their new home in France was not difficult. The family had spent several holidays in the region previously, and both Ross and Lynn love the beauty of the Charente, appreciating its heritage, culture and shared history with Britain. Lynn explained further:
" We were ready for a new challenge and although France was just across the Channel, it felt quite different. We also believed that our young children would benefit from the experience of living in another country – and have the opportunity to be bilingual. Living in mid Devon close to Dartmoor, the terrain in the Charente felt reassuringly familiar.
"For us, the Charente offers many other advantages, too. The people are very friendly and we enjoy the local music, festivals, the architecture and churches as well as the ease of access to cities such as Bordeaux which is fabulous. The sunflowers across the countryside are magnificent too!"
Groundworks business grows from strength to strength
Ross' groundworks business has gone from strength to strength since he started back in 2008; he enjoys the variety and meeting different customers. Jackson Terrassement work on all types of projects, from small renovations to large château properties. One of his areas of expertise is using smaller diggers to excavate difficult to reach locations.
New storage business takes shape
Last year Ross and Lynn decided to take on an additional business project, opening a storage facility in the Dordogne – SAS Loue1box. This enterprise is now keeping them both busy. However, life is not all work and no play… and when not busy with work, Ross and Lynn take time out in their garden and vegetable plot, visiting places of interest locally and cycling.
Finding an English speaking insurer who understands their needs
When moving to France they discovered AXA Marthon, an English-speaking insurance agency on the Charente/Dordogne borders. Ross said,
"We chose AXA Marthon as they are English speaking, reliable and understand the French system very well. We feel confident that we have the correct cover, as in a different country, it is not always easy to ensure that you have the right insurance; especially if you do not speak fluent French.
"David and his team basically do absolutely everything: our house, car, business, plant/equipment, public liability… the whole lot! There is always someone in the office, they are easy to contact – and we know that they will get back to us. If things need changing, it is done straight away. It is a very flexible, responsive and efficient service; And Virginie and Karine are a real asset to the team!"
Thank you Ross and Lynn – and good luck with your future projects.